Guy Crittington McKay was born in Rock Creek, KS in 1904 to Clifford McKay and Clara Angeline Young, whom was the granddaughter of Brigham Young. Clifford McKay later changed the family name to McCoy, and later on, Guy changed the name to Maccoy. Guy grew up showing a natural aptitude for art and had guiding forces at home and through school directing him to further his interests. In 1924, Upon leaving high school, Guy attended day and night courses at the Kansas City Art Institute. During that time Guy, met Geno Pettit, whom later becomes his wife. Guy was taught by and met several fellow artistsduring this period who have since become legendary in the Art world. Many were to become lifelong friends and colleagues. During the summers Guy travelled to Colorado Springs to attend the Broadmoor Art Academy.

By 1929 Guy was well on his way to a successful carreer. That year, he won a Tiffany Art Foundation scholarship in New York and both he, Geno and recent Guggenheim Fellowship winner Anthony Angarola headed to "The City". In 1930 Guy won The Art Students League Scholarship and began work within the League. During this time, Guy studied alongside Jackson Pollack, Rico Lebrun, Boardman Robinson, Thomas Hart Benton, Jan Matulka, Vaclav Vytlacil, and Arthur Young. During the summer months, Guy travelled back to Colorado Springs to teach at Broadmoor with Monty Lewis.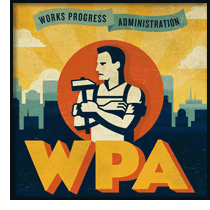 In 1933 Guy left the Art Student League to begin work within the Work Project Administration (WPA) under Dr. Herbert H. Spenden and directed by Ben Knotts. Guy is credited with murals that were created for Central American Arts and Girls Industrial High School. The following year, New York Mayor La Guardia instituted a large poster project, in which Guy became deeply involved. During the Great Depression, many artists were searching for a means to reproduce their original works faithfully, to offer additional revenue options from painting singular originals. Guy had been developing ideas for a printing process utilizing a silk screen and experimenting with various components and mediums to produce the desired results. This was the beginning of what would become the standard for reproducing original artwork, in an artform of itself. Guy was becoming the "Father of Serigraph".

Guy held the first one man show of the newly named "Serigraphs" at the Contemporary Art Gallery in 1938, featuring his works, "Woman Holding Cat" and "Still Life". In 1940 Guy graduated from Columbia University with his Bachelor of Arts in teaching. Guy and Geno moved to Vermont where Guy took up work with the Poligraphic Lithographic Company as a color separator and dot-etcher on the zinc lithographic plates. During this time Guy continued to refine the serigraphic process. In 1941 Guy got involved with "The Workshop" which was the predecessor to The National Serigraph Society, where Guy and Geno were directly involved up to 1947. In 1945 Guy and Geno left Vermont for Los Angeles, California. Other Artists and Serigraphers follow the Maccoy's to the West Coast.

A couple years after moving to California, Guy went to work with Bolter Lithography, during which time Herb Jepson asked Guy to teach at his newly formed Jepson Art Institute in Los Angeles. Guy taught alongside Geno Pettit, Rico Lebrun, William Moore, Francis de Erdely, Bill Brice and Howard Warshaw. In 1948 Guy formed the Western Serigraph Society and became its first President. And in 1949, Otis Art Institute of Los Angeles' director, Millard Sheets, convinced Guy to join the Otis faculty. Guy remained there for the next eleven years and retired in 1960 at age sixty five. During the next year Guy taught Art at several locations, including UCLA and The Palos Verdes Art Center. Many students from Jepson, Otis and UCLA follow Guy, including a student by the name of Yvonne Linnemeyer. Yvonne and her son, Alan, would go on to carry the message about this great American artist and serigraph pioneer after his passing. In 1965 Guy is asked to join and assist the newly formed Los Angeles Print Society (L.A.P.S.) By 1969, Guy was teaching classes and doing private instruction out of his Chatsworth badlands home and other area locations.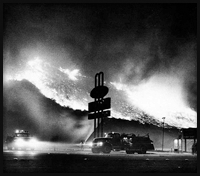 In 1970 Guy and Geno were notified that their fire insurance had been cancelled due to being in a high fire location. Two weeks later a devastating fire swept up from the Santa Suzanna mountains and destroyed their home and studio along with all their earthly possessions and a life's worth of Art and memorabilia. Shortly after this event, a huge out-pouring of support of all types comes from students, fellow artists and other associates. Guy was able to then establish the first of two new Guy Maccoy Studios in the Canoga Park area near his new residence. Yvonne and her son Alan Linnemeyer worked alongside Guy - Yvonne as additional color separator and screen stenciling, Alan as print technician.

Guy opened a second larger and greatly updated Guy Maccoy Studio in 1972, where he began painting originals, producing his own serigraphs, conducting Art classes and seminars, as well as taking on commissioned artworks from renown artists looking for fine Art Limited Edition Serigraphs. Again, Yvonne takes a key role in color separation and screen stenciling along with additional help from Dan Merrit and Ann Paes. Guy, Alan and Dan take on the key printing duties. Over this period the studio produces multiple commissioned works from renown artists such as: Marco Sassone, Eyvind Earle, Ted Degrazia, Peter Hurd, Fredrick & Eileen Whitaker, Millard Sheets, Peter Ellenshaw, and Jeffery Roy Lunge', just to name a few. Guy produced well over 100 original paintings and over eighty limited editions of his own works. Keeping in mind that all these serigraphs were hand stenciled on their screens using a method of color separation controlled one hundred percent by the mind's eye and knowledge of the Guy Maccoy process. Once the individual color run was completed on as few as 10 sheets of 100 percent rag paper to a practical sheet maximum of two hundred and fifty and never higher than three hundred with proofs included. After each print had been hand registered and printed it was hand hung up to dry, after all sheets in the edition had been run the screen was washed out, cleaned, dried and readied for the process to begin all over. The number of color runs to produce many of these fine work of art averaged in the fifty to eighty plus color runs with many prints having over one hundred color runs. This effect of color layering and intimate knowledge of color is what made Guy's work so beautiful, unique, collectable and valuable.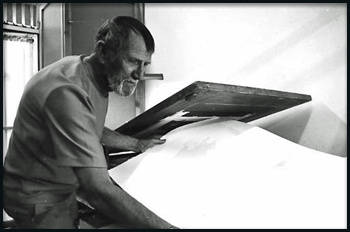 In 1981, Guy Crittington Maccoy had gone into the advanced stages of Amyotrophic Lateral Sclerosis (ALS) commonly known as Lou Gehrig's disease. After only eight months in the hospital, with his friends at his side, he and his gentle greatness passed away. Geno Pettit Maccoy passed only a year later.

The Guy Maccoy Studio is continued under the direction of Yvonne Linnemeyer, and over the next five years produced another fifteen commissioned works before finally closing in 1986. Now, 25 years later, Yvonne's son who once worked alongside the great Guy Maccoy, has resurrected all of the available documents, prints and original artwork and has undertaken the task of bringing Guy's legacy to the public eye through this Web site, www.guymaccoy.com, in hopes that his great story will be learned by a new generation, and a new appreciation for this man and his pioneering work will be discoved among artists and art lovers alike.

Media Articles

Here, you will find a few media articles about Guy Maccoy, and his contributions to pioneering modern silk screen in contemporary fine art. Please click on the thumbnails below to launch a viewer for each article.